Who else don't know this song?
I fairly like this song but I double like this song
when I watch the video clip! Why? cause I love how
the monkey dancers dance. So enjoyable and fun to watch!
hahaha I can't take my eyes off when this video played on TV.
Best kan dorang menari? hehehe
(Though actually I was annoyed with the monkey mask.
They should not put the mask on. =__=" I hate it)
Its make me wonder who is actually underneath
the monkey mask. Well, they are an Asian American
all male dance crew from Westminster, California
called Poreotics. They won the fifth season
of the show
America's Best Dance Crew
on April 8, 2010 !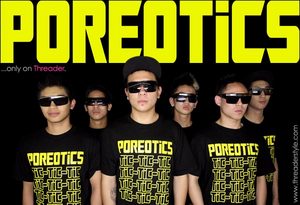 Wow they are a professional dancers! no wonder.
though this vclip is so simple, a video only in one
room, and one view! yet it is enjoyable :)
Actually they are all six of them but in the vclip only got 5.
Um maybe they just want to make it balance by only use 5 of
them plus the bruno mars become 6. It is unsymmetrical if 7 all of
them right.
They also featured in Justin Bieber vclip 'Somebody to love'
that's all fact for today!
Have a nice day :)
P.S : muka bruno mars ni mau sebijik dah macam monkeys dancer tuh xD